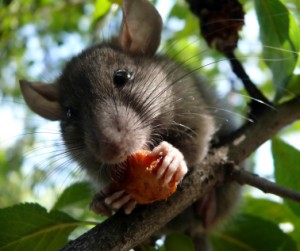 Most of the properties in the Santa Barbara area have heavy foliage.  There are many natural water and habitat sources, such as creeks.  Many of the homes are older structures which have openings that provide additional shelter and protection from natural predators.  
Rats are ready to reproduce at  2-3 months, females have approx. 5 litters a year, producing 8-12 babies per litter.  Adults rats usually live about one year.  These pests live in colonies, which are found in crawl spaces of houses and buildings,sheds,barns,cars, wood piles,trees,shrubs and more.
Rats and mice are known to carry diseases such as Salmonella.  Some mice, specifically the deer mouse also carry the Hantavirus, which is excreted in their urine, saliva, and droppings. Rats have not been known to carry Hantavirus.  Rats and mice can also spread additional disease and allergens.
Pest control for rats in Santa Barbara is very important considering all of the elements that are available for rats to thrive. So Cal Pest Control provides complete rodent control pest control programs for residential and commercial properties in Santa Barbara,Montecito,Goleta,and Carpinteria. So Cal Pest Control has been effectivily exterminating rats and mice in Santa barbara since 1999 and offers the most expierenced and effective rodent  pest control solutions in the pest control industry.