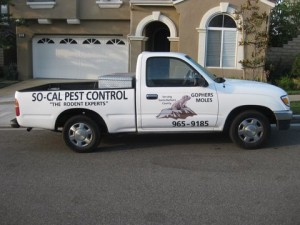 So Cal Pest Control in Santa Barbara exterminates rats,mice,gophers, and moles.  We also specialize in live animal trapping of pests like skunks, opossum and raccoons. We provide pest control  for the communities of Carpinteria, Montecito, Santa Barbara and Goleta.
Specialization gives us more precise experience
Our experience every day, is dedicated to rodent control and live animal trapping in the pest control world. Rats,mice,gophers and moles are pests that require professional experience in order to get rid of and So-Cal Pest Control has that experience. We have been solving rodent infestation problems since 1999.
We don't spread our experience out among a wide array of different pests like insects.  We only work to solve these rodent problems. If you want to get rid of your rats,mice,gophers, and moles, then call So-Cal Pest Control.
So -Cal Pest Control of Santa Barbara provides rat and mouse pest control which includes, rat and mouse trapping, rodent proofing, rat and mice bait station services and rodent feces clean-up. We are your full service rat and mouse killer company.
So-Cal Pest Control of Santa Barbara's gopher and mole pest control services include getting rid of initial gopher and mole problems,gopher and mole mound removal,and ongoing preventative plans when needed. Our services are superior to gardeners and other pest control companies due to our experience and licensing which allows us to use the most effective products in the industry.