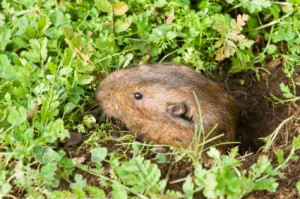 Exterminating gophers and moles from your property requires experience and knowledge.  Our technicians are licensed to apply the most effective materials in the industry for gopher and mole removal. Our gopher and mole control services help prevent plant loss, ground erosion and unsightly mounds.
How do we get rid of  Gophers?
We specialize in gopher and rodent control using the most effective, yet safe, methods on the market.  Each employee at So-Cal Pest Control is licensed by the state of California to use restricted materials, as well as registered with the county to engage in pest control for hire.
Our services include an initial service, which consists of coming out to the site and treating all gopher activity. In addition to our initial service, we may recommend a monthly service.This helps to ensure that any new activity is treated before it has a chance to destroy the landscape.In these service visits, we are scheduled to come out and walk the entire property and treat any activity.This is all included in the price of the monthly service.